Are you thinking about moving to St. Pete? Ranked as
one of the best places to live
in the country, St. Pete offers a fabulous blend of artsy cultural attractions and outdoor recreational activities. Plus, locals can enjoy all the exciting amenities whenever their hearts desire, thanks to the beautiful, sunny year-round weather.

If you are considering buying a luxury home in stunning St. Pete, you will not want to miss this. Read on to find out what you need to know about this gorgeous Florida locale.
One of the fastest-growing cities with plenty of amenities
As recently as March 2022, St. Pete ranked within the
top 10
metropolitan areas for the fastest population growth. Specifically, the Tampa-St. Petersburg-Clearwater area saw an
influx of 36,129 people
relocating to the area in 2021, bringing the total population to just over three million within the metropolitan area.
Thanks to its incredible level of appeal, St. Pete has been steadily growing in population for many years, reaching over
260,000
residents as of the latest data. Real estate seekers from across the country are drawn in by its fantastic location, outdoor adventure spots, and exciting atmosphere.

For one, St. Pete is ideally located on the southern tip of the Pinellas Peninsula, surrounded by the shimmering waves of Tampa Bay and the Gulf of Mexico. As a coastal city, there is no shortage of adventure here, from swimming and kayaking at the beach to bird-watching at Fort De Soto Park. Residents can often be found picnicking or rollerblading at North Shore or Vinoy Park. Plus, the SunRunner Transit Bus System ensures that a fun beach outing is just a short trip away.

In addition to its beach-focused lifestyle, St. Pete is an artsy and cultural city that offers many entertainment venues to explore, such as the Salvador Dali Museum and the Sunken Gardens. If that's not all, residents can make the 25-mile commute to Tampa for an array of exciting adventures, such as visiting the Tampa Museum of Art, the Florida Aquarium, or Busch Gardens.
The thriving economy also beckons many to this incredible city. The job market in St. Pete has
increased by 2.3%
in the past year and is projected to grow an additional
42% over the next decade
. With a flourishing job market and strong economy, many aspiring young professionals continue to relocate to St. Pete to take advantage of the numerous opportunities the city affords.
The luxury housing scene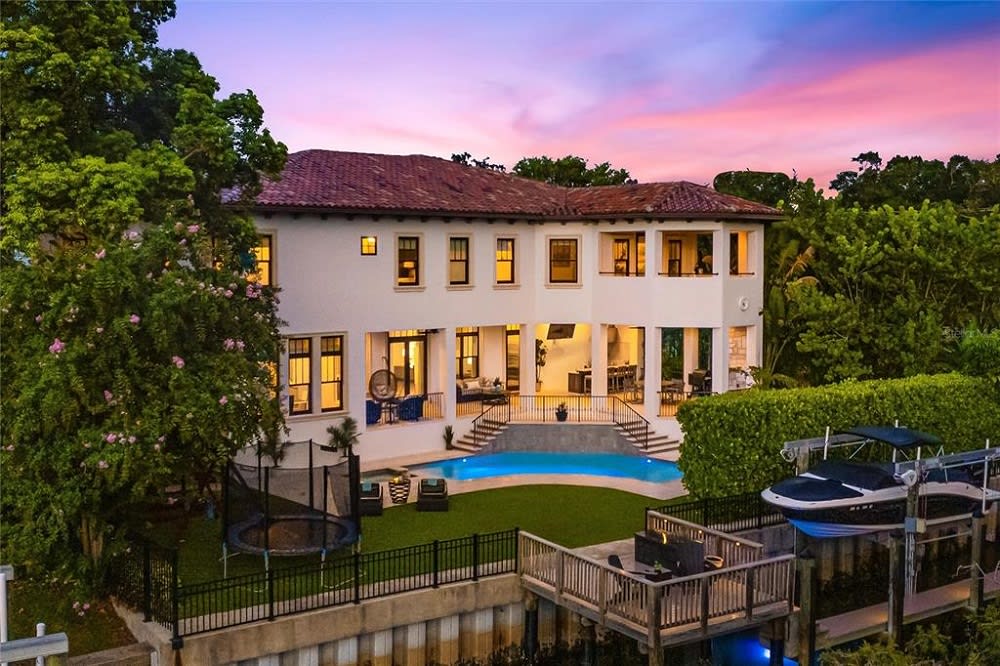 Photo courtesy of Julia Fanning & Aleks Pavlova

In addition to its incredible coastal atmosphere and recreation spots, many are increasingly attracted to St. Pete thanks to the extraordinary homes it has to offer. In St. Petersburg, your money often goes farther than in other major cities. In fact, many residents find that they can purchase more spacious homes than they would be able to in other metropolitan areas, such as San Francisco or New York City.
Within the Tampa-St. Petersburg-Clearwater area, the median sales price for single-family homes as of December 2022 was just under
$400,000
, according to the latest data from the Greater Tampa Realtors. This is a modest 8.7% increase year-over-year.

However, remember that in the luxury housing landscape of this beautiful city, many homes are priced well above that figure — some listed for over $10 million. On your real estate journey, you will discover an array of St. Pete luxury homes of varying architectural styles and sizes. You can find opulent estates on the waterfront, with private docks and stunning amenities at every turn, such as vaulted ceilings, wine cellars, private saltwater pools, and so much more.
Many sought-after upscale neighborhoods

There is an extensive collection of gorgeous neighborhoods in St. Pete, each with a distinctive vibe and atmosphere. The following is a small but excellent selection of the 110-plus neighborhoods in St. Pete. With many different options, there is sure to be one that will align with your lifestyle.
Coquina Key

Located along the peninsula's eastern coast bordering Tampa Bay is the highly amenitized neighborhood of Coquina Key, where you'll find a variety of impressive single-family one- and two-story homes with many distinctive styles. This waterfront neighborhood features various amenities, including sports courts, playgrounds, walking trails, and boat slips.
Crescent Lake

The Crescent Lake neighborhood surrounds the tranquil lake of the same name while being just a stone's throw away from the bustling downtown area. Crescent Lake Park has various recreational options in store, such as playgrounds, dog parks, trails, and pickleball and tennis courts.
Downtown St. Pete

If you wish to live in the heart of the action, downtown St. Pete is the place to be, as you will find several top-notch shopping and dining options and other attractions here. St. Pete Pier is a go-to spot for water sports, concerts, fantastic meals, and enjoying the views. The Museum of Fine Arts features 4,000 years of European and African artwork that inspires the imagination. For retail therapy, the Mall at Sundial is unmatched, thanks to its extensive collection of shops and restaurants, plus an on-site movie theater.

Many of these attractions are just a stone's throw away from the fabulous condo skyrises, which feature an array of amenities, such as wall-to-wall windows, elevators, private balconies, and city and waterscape views.
Consult a premier St. Pete real estate team

Whatever kind of luxury you are seeking, you are sure to find it if you know where to look — and if you have the right real estate team by your side.
Schedule a consultation with the top-tier St. Petersburg realtors
Julia Fanning & Aleks Pavlova
, who can provide expert guidance on everything from localized neighborhood insights to innovative negotiation tactics. This dynamic duo can help you find your dream luxury home in St. Pete that aligns with all your must-haves and more! Before you know it, you can experience the ultimate vacation beach lifestyle every day.

*Header photo courtesy of Julia Fanning & Aleks Pavlova